Inactivate unused dotScribe Library Folders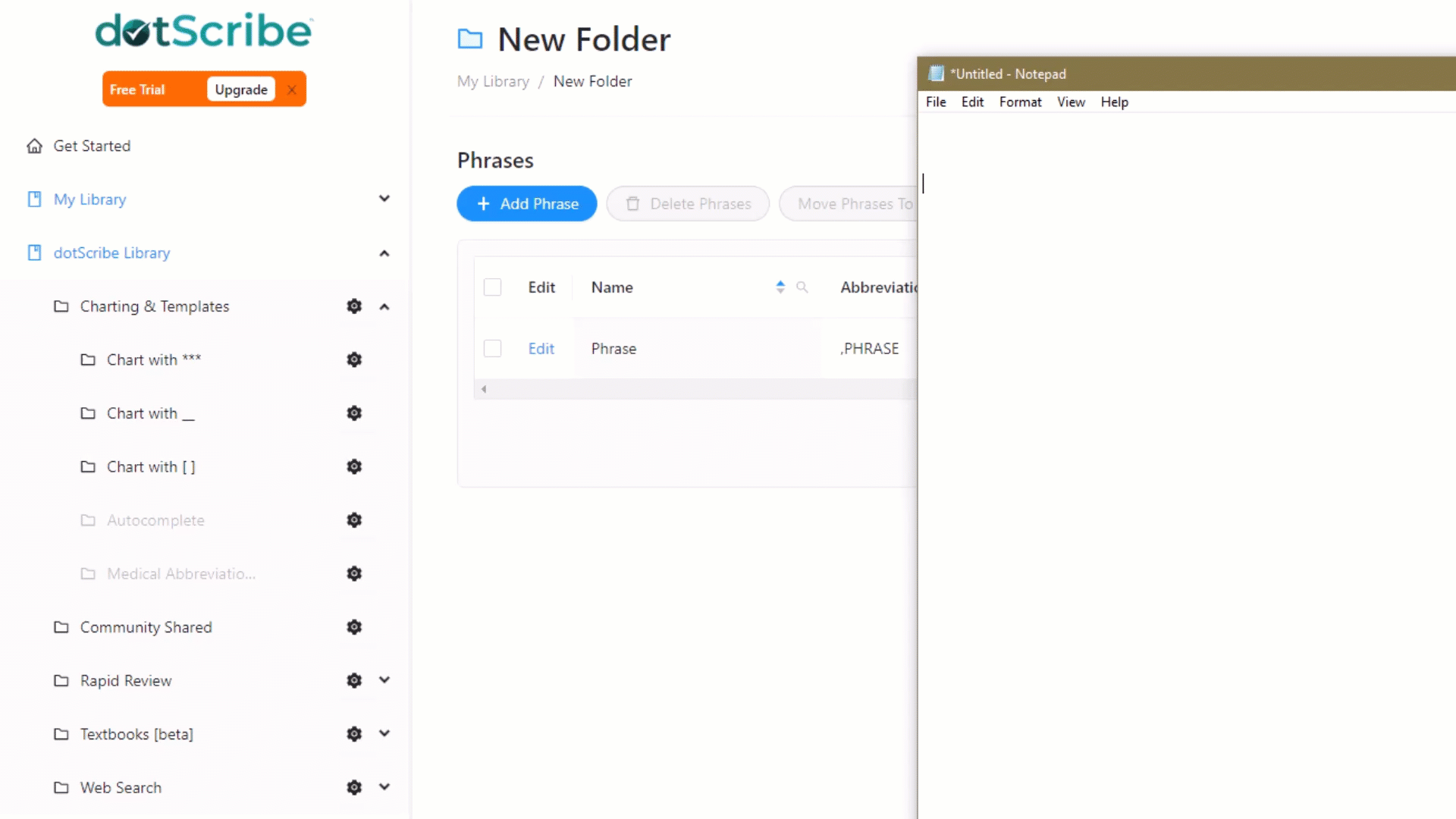 When you inactivate folders, they will not appear in the dotScribe suggestion window.
You can increase the accuracy
of dotScribe by inactivating the folders that you do not use.
dotScribe templates come in 3 forms based on placeholders found in common EHRs. We recommend using the "Chart with _" folder if your EHR doesn't utilize placeholders. Inactivate the "Chart with" folders that you won't use to prevent redundant suggestions.
If you are using the desktop app, click the dotScribe Icon and click "Open Library" to open

app.dotScribe.com

Click "dotScribe Library"

Click the settings icon to the right of the folder you want to inactivate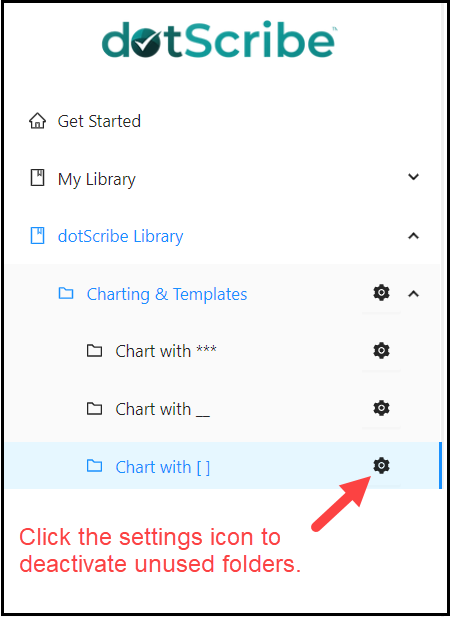 We hope this article answered your question and helped you learn more about using dotScribe. Visit our
knowledge base
for more helpful knowledge base articles and start saving time with dotScribe today.
Related Articles

Hide Folders From Your Team in the Online Library

dotScribe gives you the option to hide or show your folders to your shared team in the online library. First, click on the library folder drop-down arrow. Click the arrow to the right of whichever folder you wish to hide from your team. When you ...

Navigating the Online Library

The dotScribe Online Library is where you can upload your phrases, view and edit your phrases, and add new phrases. 1. Open app.dotScribe.com and sign in or create an account 2. On the landing page of the online app, you'll be directed to the ...

Search your Library

There are many ways to browse and search your dotScribe library. ​ dotScribe suggestions are by far the fastest way to search content. Refer to the dotScribe Prefix Legend to instantly access anything you need. Open the prefix legend by clicking the ...

How to Sign In to the dotScribe app and your Online Library

To Sign In to your online library, go to app.dotscribe.com and click login. If you don't have an account, go to app.dotscribe.com and click create an account. To logout of your online library, go to settings and click the logout button in the upper ...

How to Create, Move, Rename, Delete Folders and Move Phrases Between Folders

To find your folders, go to the dotScribe online library at app.dotScribe.com and click "My Library". Click on your library subfolder to view your phrases. This may be called "New Folder" and can be found below the "My Library" section. To create a ...