Hide Folders From Your Team in the Online Library
dotScribe gives you the option to hide or show your folders to your shared
team
in the online library.
First, click on the library folder drop-down arrow. Click the arrow to the right of whichever folder you wish to hide from your team.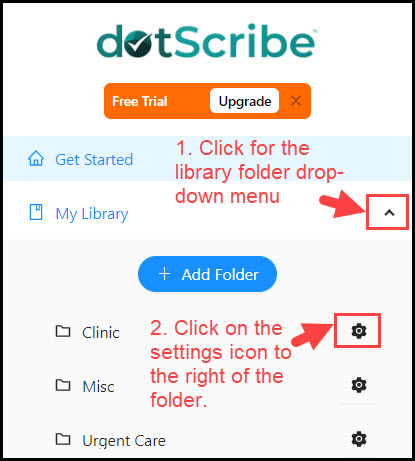 When you have a team and they go into your online dotScribe account at app.dotScribe.com, you can prevent members of your team from viewing the content in their online library with the "hide" function.
This is different from the "set inactive" options in the library folder settings menu. The "set inactive" function prevents the folder from showing up in the results of the dotScribe suggestion window.
We hope this article answered your question and helped you learn more about using dotScribe. Visit our
help center
for more helpful knowledge base articles and start saving time with dotScribe today.
Related Articles

Navigating the Online Library

The dotScribe Online Library is where you can upload your phrases, view and edit your phrases, and add new phrases. 1. Open app.dotScribe.com and sign in or create an account 2. On the landing page of the online app, you'll be directed to the ...

Invite Members to your dotScribe Team or Organization

We've made it easy to create a team so you can share content and editing permissions with others in your organization. Individual users can also benefit from this feature to grant limited or temporary access to a medical scribe or rotating student. ...

Can I edit dotScribe's templates in the online library?

dotScribe comes with a vast library of medical templates, terms, and acronyms that can be executed with just a few keystrokes. The dotScribe library is separate from your personal library and the community-shared library. Unlike the community-shared ...

Inactivate unused dotScribe Library Folders

When you inactivate folders, they will not appear in the dotScribe suggestion window. You can increase the accuracy of dotScribe by inactivating the folders that you do not use. dotScribe templates come in 3 forms based on placeholders found in ...

How to Sign In to the dotScribe app and your Online Library

To Sign In to your online library, go to app.dotscribe.com and click login. If you don't have an account, go to app.dotscribe.com and click create an account. To logout of your online library, go to settings and click the logout button in the upper ...