dotScribe Froze, Quit, and showed a JavaScript Error, what do I do?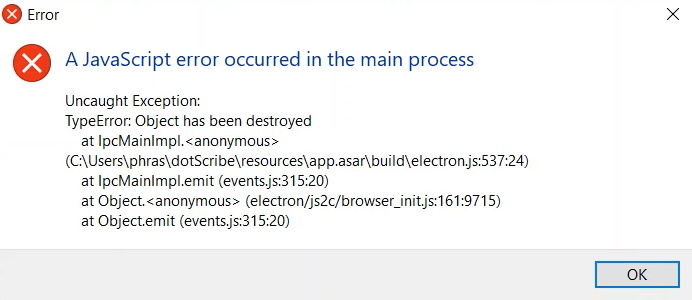 This error is displayed during our current autoupdate process. With the release of a NEW VERSION, dotScribe will force your current version to close which triggers this error message. As we are very early in our development, forced updates will be necessary to ensure critical fixes are updated system wide.
dotScribe should continue to update and replace the old version with the new within a matter of minutes. You will be able to continue using dotScribe once the update is complete.

If needed, exit dotScribe and restart the app to resolve any issues that may come from the forced autoupdate. If you have recurrent problems please submit a HelpDesk ticket so we can help.
We hope this article answered your question and helped you learn more about using dotScribe.
Visit our
help ce
nter
for more helpful knowledge base articles and start saving time with dotScribe today.
Related Articles

Sign Out or Exit dotScribe app

To Sign Out of the desktop app: Open the dotScribe menu by clicking the dotScribe icon in the taskbar. Click the Sign Out option. Sign out will leave dotScribe active for another user to sign in. After signing out, you can Exit the app by clicking ...

Can I edit dotScribe's templates in the online library?

dotScribe comes with a vast library of medical templates, terms, and acronyms that can be executed with just a few keystrokes. The dotScribe library is separate from your personal library and the community-shared library. Unlike the community-shared ...

Turn dotScribe Suggestions Off and On

When working on your computer, there will be times that you will want to quickly turn off dotScribe suggestions. Turning off dotScribe suggestions is also a great way to reset the app if the suggestions are not loading correctly or have started to ...

dotScribe pastes a "v", a partially completed phrase, or doesn't clear typed text after executing a phrase

This is a known bug that occasionally pastes: 1. a "v" 2. a partially completed phrase 3. without clearing typed text completely or 4. after clearing too much preceding text If this error happens, it should be infrequent and temporary. Pressing the ...

Open the Desktop dotScribe App

To open the dotScribe app, double-click the dotScribe icon. You can find the dotScribe icon on your toolbar, taskbar, or desktop applications folder. We hope this article answered your question and helped you learn more about using dotScribe. Visit ...