Introduction and Get Started
Welcome to dotScribe!
In this helpdesk article, we will go over how to deactivate unused templates, customize your settings, turn on and off suggestions, add a new phrase, import your phrases from excel, open the dotScribe search bar, invite members to your dotScribe team, and create tags and folders in your library.
Inactivate unused dotScribe Template Placeholders
dotScribe templates come in 3 forms based on placeholders found in common EHRs. We recommend using the "Chart with _" folder if your EHR doesn't utilize placeholders. Inactivate the "Chart with" folders that you won't use to prevent redundant suggestions.
Inactivate the folders you don't use in order to increase the accuracy of dotScribe.
If you are using the desktop app, click the dotScribe Icon and click "Open Library" to open
app.dotScribe.com
Click "dotScribe Library"
Click the settings icon to the right of the folder you want to deactivate
Then in the desktop taskbar menu select SYNC PHRASES
Once sync is complete (may take several minutes based on number of changes) your suggestions will match your active folders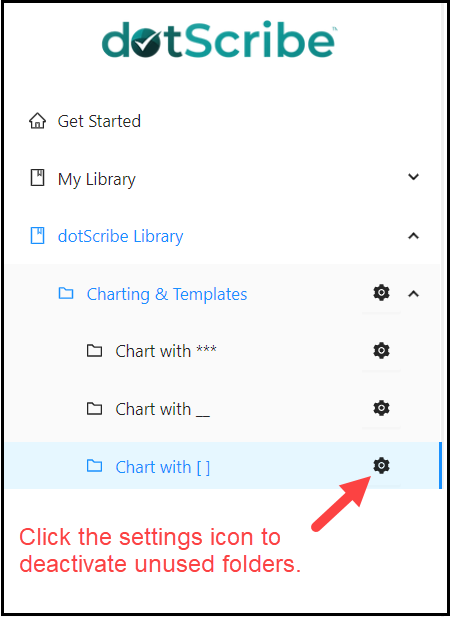 Choose Your Execute Key



Settings allow you to control how many suggestions appear, where your suggestions appear, and your execute key (the key that allows you to select a suggested phrase). Left CTL is the default Execute Key to avoid interference with other programs. Tab is also a popular Execute Key among users.
Open the dotScribe menu by clicking on the icon located on your desktop taskbar
Select your preferred Execute Key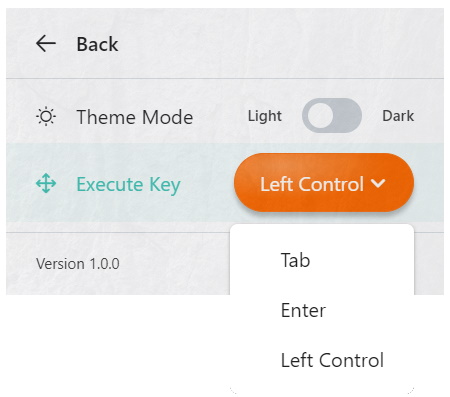 Turn dotScribe Suggestions Off and On



If you want to turn off dotScribe suggestions,
Click the dotScribe icon in your desktop taskbar
Click "Turn Suggestions Off"
The dotScribe icon will turn gray when the suggestions are turned off.
Suggestions will also be suspended if you minimize the floating dotScribe Toolbar, even if suggestions are not turned off.


Add a new phrase



dotScribe makes it easy to add a new phrase.
Click "My Library" and either select a folder or add a new one.
A new phrase will appear in your folder.
Click "Edit" to the left of the new phrase.
Create your new phrase with a name, abbreviation, content, and tags.
You can also add a new phrase on your mobile phone at
app.dotscribe.com
,
using the same steps as above.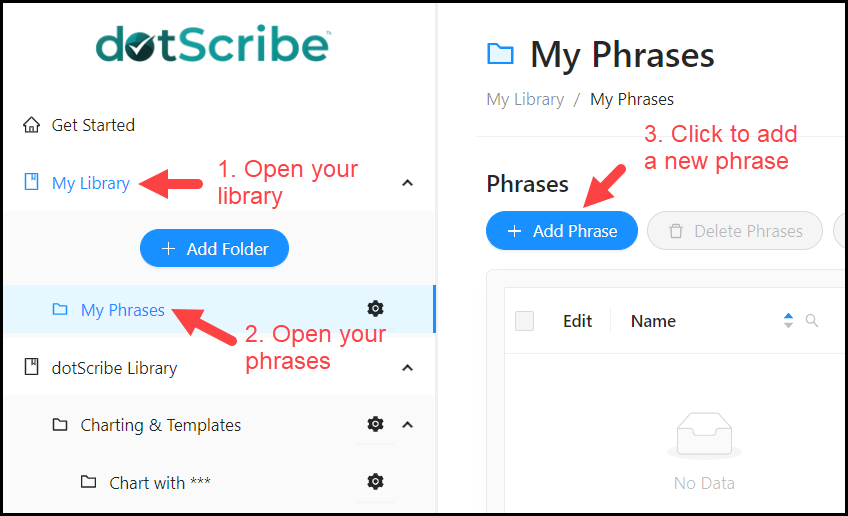 To create a phrase that opens a web page,
Paste the link into the "Content" section when you are editing your new phrase
(the link must begin with either "www" or "http")
Using the phrase will now open your web link.


Import your phrases from Excel



dotScribe is currently able to accept imports as excel files.

To import your own phrases into dotScribe,
If you don't already have a folder made, click "Add Folder"
Excel columns mu
st match the dotScribe format exactly to import correctly
. Click the "sample excel sheet" to see the required excel sheet columns format.
Click "Click to Upload Excel File"



Search for Content Instantly
There are many ways to browse and search your dotScribe library.
- Typing for dotScribe suggestions is by far the fastest way to search content. Just type a problem/complaint/topic without using spaces.
- Open the prefix legend by clicking the Legend button on the floating Toolbar.
- The Search Bar is also a great way to quickly and easily find the content you're looking for.
- Alternatively, click the Library button on the dotScribe Toolbar to browse your Library to find the phrase you need.


Invite Members to your dotScribe Team



If you are using a medical scribe or are teaching, you might want to give limited access to your dotScribe library by adding a member to your dotScribe team.
Open your dotScribe library and click on Settings Select the number of team members you'd like to add in the Billing section (for subscribers - Team upgrade is performed after selecting the Manage Billing button) Click the Upgrade option you want for your team Complete checkout Return to dotScribe Settings and Scroll down to the Team section
Click "Invite Users" and enter their name and email. They will be sent an email with a temporary password and confirmation code.
Once they sign in using that email and temporary password, they can connect to your dotScribe account.



Creating tags is simple, easy, and can be done by going to your settings. Fill out the information for your tag and click "Create New Tag".



Utilize Folders to Organize your Content



dotScribe content can easily be viewed and organized within folders by clicking the arrows at the top of each column.
Use the search window to search for tags and terms within a folder.
We hope this article answered your question and helped you learn more about using dotScribe

.
Visit our
help center
for more helpful knowledge base articles and start saving time with dotScribe today.
Related Articles

Navigating the Online Library

The dotScribe Online Library is where you can upload your phrases, view and edit your phrases, and add new phrases. 1. Open app.dotScribe.com and sign in or create an account 2. On the landing page of the online app, you'll be directed to the ...

Turn dotScribe Suggestions Off and On

When working on your computer, there will be times that you will want to turn off dotScribe suggestions. If you want to turn off dotScribe suggestions, click the dotScribe icon to open the dotScribe taskbar menu and click the button to turn off ...

How to Sync Your Phrases

If you have recently edited or added a new phrase in your online library, you will need to sync the dotScribe app to get updated suggestions. With dotScribe open, open the dotScribe app menu in your computer taskbar Click the "Sync Phrases" button ...

Add a New Phrase

dotScribe makes it easy to add a new phrase. Go to app.dotscribe.com Once you are signed in, click "My Library" and either select a folder or add a new one. In your folder, click "Add Phrase". A new phrase will appear in your folder. Click "Edit" to ...

The 4 Main Functions of dotScribe

1. Typing (with dotScribe open) without spaces will get you search results for thousands of medical templates and resources. Use the arrows on your keyboard to view a preview of the suggestion results and press the execute key (default is CTRL) to ...