Invite Members to your dotScribe Team or Organization
We've made it easy to create a team so you can share content and editing permissions with others in your organization.
Individual users can also benefit from this feature to grant limited or temporary access to a medical scribe or rotating student.
Open your dotScribe library and click on Settings



Select the number of team members you'd like to add in the Billing section (for subscribers - Team upgrade is performed after selecting the Manage Billing button)


Click the Upgrade option you want for your team




Complete checkout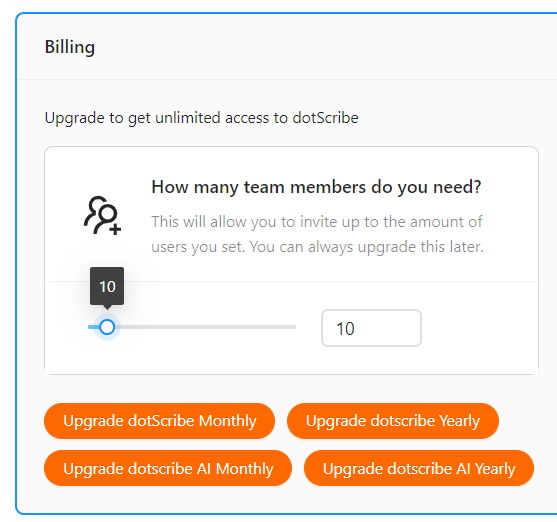 Return to dotScribe Settings and Scroll down to the Team section

Click "Invite Users" and enter their name and email




They will be sent an email with a temporary password and confirmation code




Once they sign in using that email and temporary password, they will become a member of your dotScribe account




Important notes regarding the use of dotScribe Teams
- Users cannot use their team email for any other dotScribe account.
- All created content stays with the Admin/owner of the organization. This is important if a team member is deleted.
- The organization owner is responsible for payment of all team members.
- Invited team members will need to sign up by first entering the temporary password followed by the confirmation code provided in their invitation email. After Sign Up is complete, team members can change their password by clicking
Forgot your Password? Reset Password
on the Sign In page
We hope this article answered your question and helped you learn more about using dotScribe. Visit our
help center
for more helpful knowledge base articles and start saving time with dotScribe today.
Related Articles

How many users can I add to my account?

Currently dotScribe users are able to add members to their team, with an upper limit of 100 users. We hope this article answered your question and helped you learn more about using dotScribe. Visit our help center for more helpful knowledge base ...

Navigating the Online Library

The dotScribe Online Library is where you can upload your phrases, view and edit your phrases, and add new phrases. 1. Open app.dotScribe.com and sign in or create an account 2. On the landing page of the online app, you'll be directed to the ...

Hide Folders From Your Team in the Online Library

dotScribe gives you the option to hide or show your folders to your shared team in the online library. In your online library, click on the library folder drop-down arrow. Click the arrow to the right of whichever folder you wish to hide from your ...

Billing Management

To manage your billing, go to app.dotScribe.com and click on "Settings" on the left-hand menu. Scroll down the page past the "Team" section to the "Billing" section. Here, you will be able to adjust your subscription and manage payments. For ...

Add a New Phrase

dotScribe makes it easy to add a new phrase. Go to app.dotscribe.com Once you are signed in, click "My Library" and either select a folder or add a new one. In your folder, click "Add Phrase". A new phrase will appear in your folder. Click "Edit" to ...