Turn dotScribe Suggestions Off and On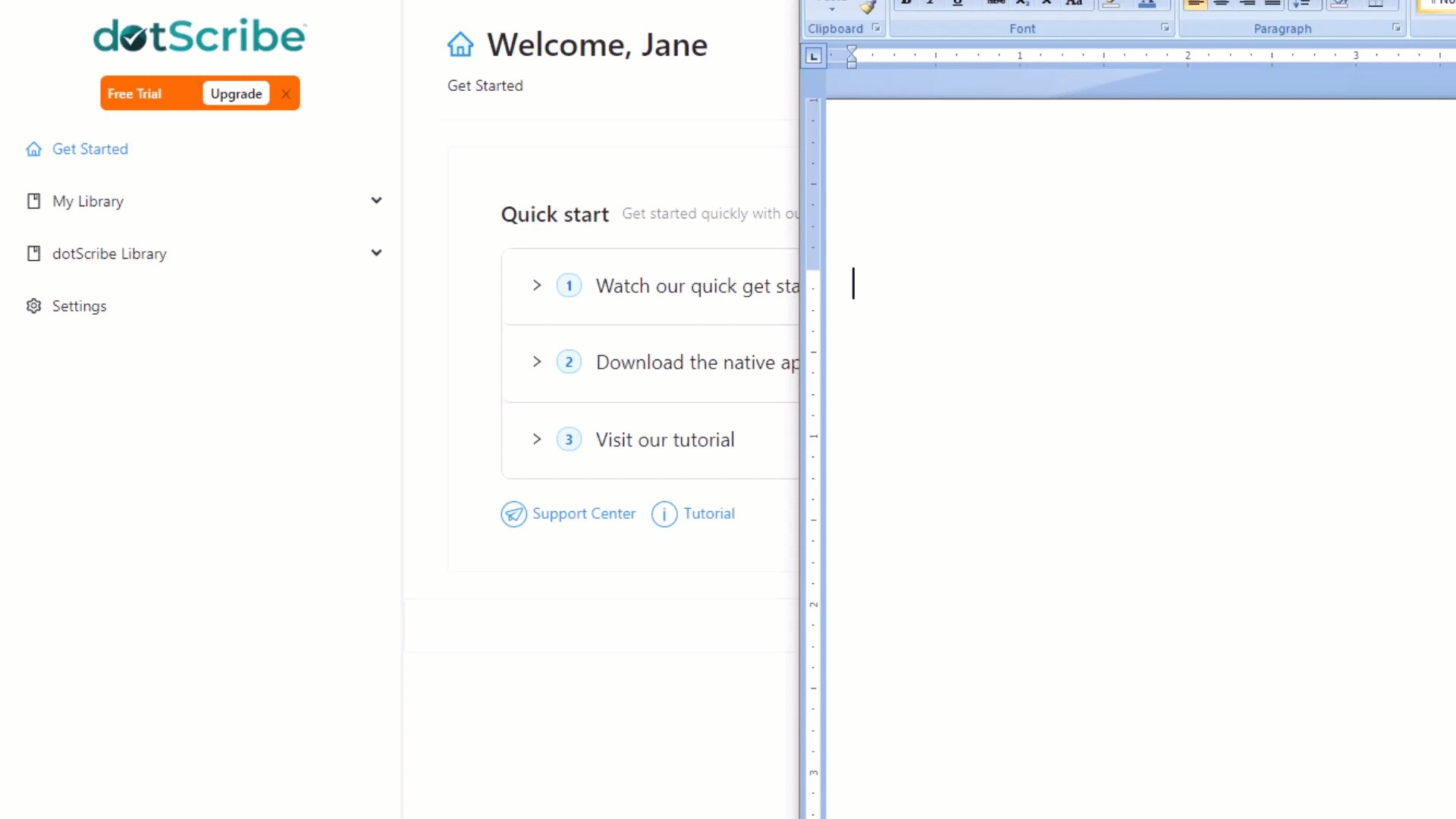 When working on your computer, there will be times that you will want to quickly turn off dotScribe suggestions.
Turning off dotScribe suggestions is also a great way to reset the app if the suggestions are not loading correctly or have started to lag.
If you want to turn off dotScribe suggestions,
Click the dotScribe icon to open the dotScribe taskbar menu




Click "Turn Suggestions Off" (a very helpful shortcut for this is

CTRL + PERIOD KEY

)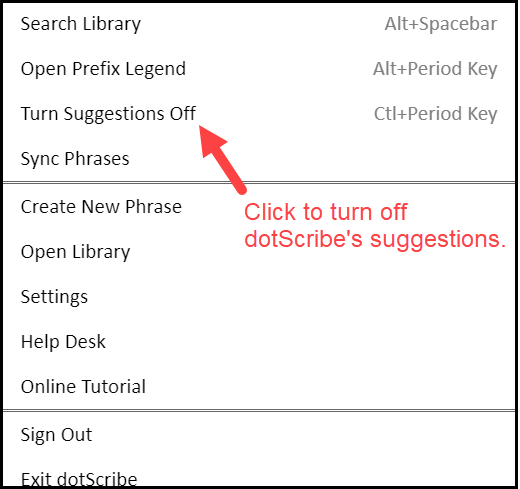 The dotScribe icon will turn
gray
when the suggestions are turned
off
. A
green
dotScribe icon indicates that suggestions are
on
.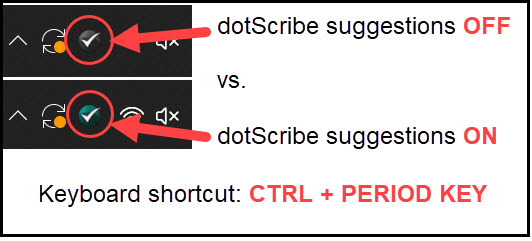 We hope this article answered your question and helped you learn more about using dotScribe. Visit our
help center
for more helpful knowledge base articles and start saving time with dotScribe today.
Related Articles

How do I reset the desktop suggestions?

If you notice an error with your dotScribe suggestions, you can reset the suggestions window in a few easy ways: Press the ESCAPE key twice Press the spacebar, enter, or another non-character key (that isn't your execute key) Click anywhere outside ...

Can I edit dotScribe's templates in the online library?

dotScribe comes with a vast library of medical templates, terms, and acronyms that can be executed with just a few keystrokes. The dotScribe library is separate from your personal library and the community-shared library. Unlike the community-shared ...

After MAC install, dotScribe shows NO SUGGESTIONS when I type and/or will not Execute Phrases

This is most commonly due to not granting dotScribe ACCESSIBILITY access in your System Preferences -> Security & Privacy -> Privacy during installation. dotScribe requires Accessibility features in order to function correctly. Here's how to grant ...

Inactivate unused dotScribe Library Folders

When you inactivate folders, they will not appear in the dotScribe suggestion window. You can increase the accuracy of dotScribe by inactivating the folders that you do not use. dotScribe templates come in 3 forms based on placeholders found in ...

How to run dotScribe on Windows USB

OPTION 1: Copy installed dotScribe folder to a USB First, sign in to app.dotScribe.com to download and install the app on a Windows computer. Be sure to note where you install dotScribe. Find the location of your installed dotScribe folder. Copy the ...